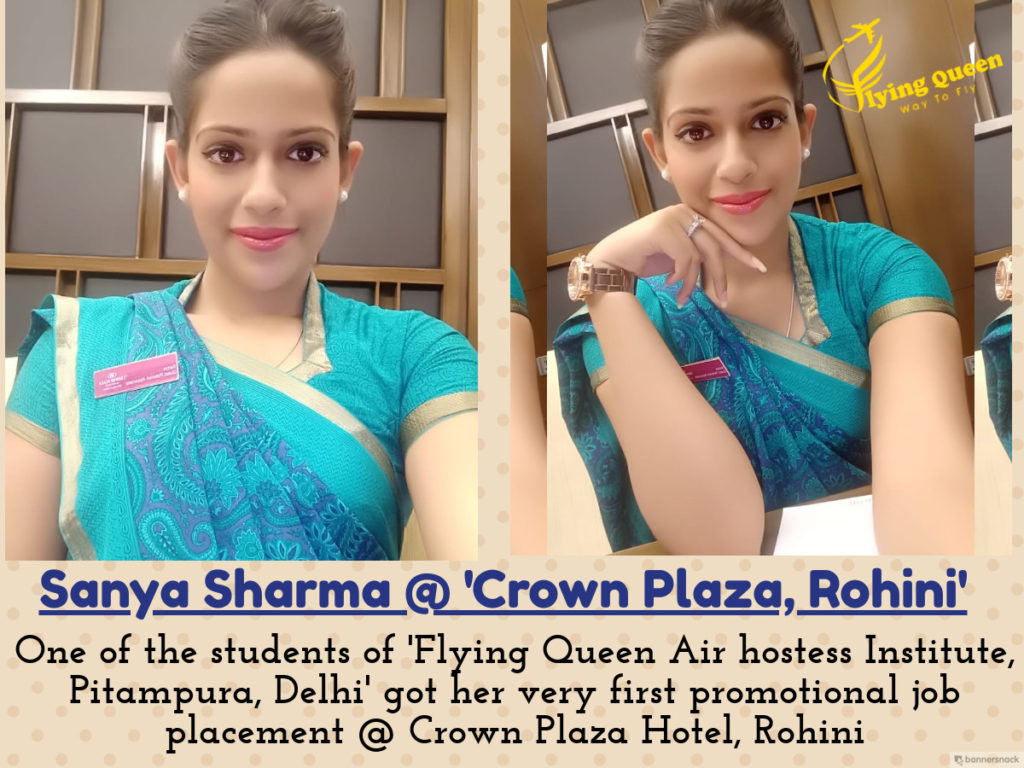 Air Hostess Course Job Assistance
After completing the course at 'Flying Queen Air Hostess Academy, Pitampura, Delhi', the candidates are sent for the Interviews to Aviation and other related sectors. Recently some of the students appeared for the Hospitality sector Interviews. The photo displayed is of Sanya Sharma, who appeared for her first hospitality interview and got the first promotional job at Crown Plaza Hotel, Rohini, Delhi.
__________________________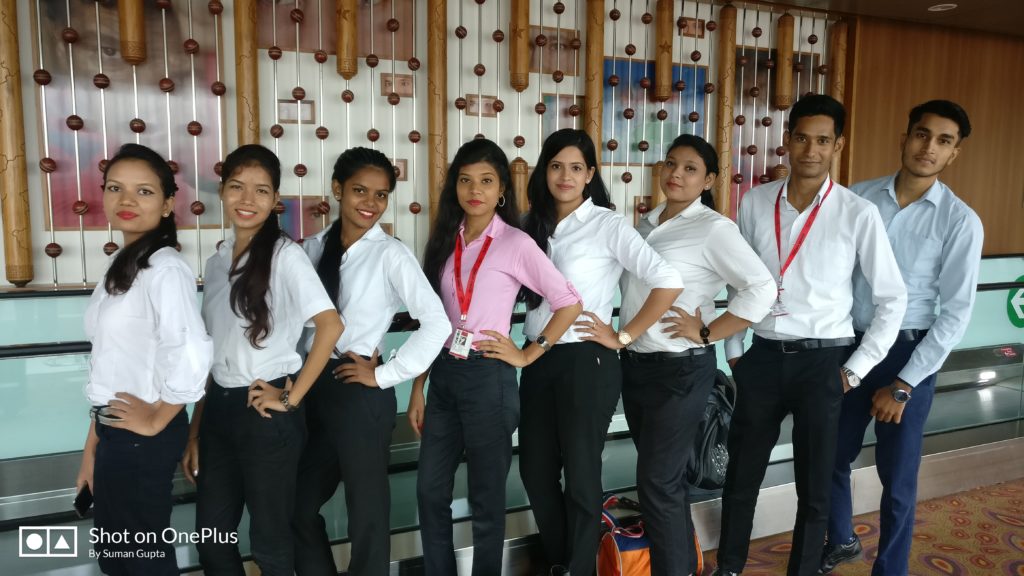 Air Hostess Course-Free In-flight Trip
To watch the video of the trip, click the link below
https://www.youtube.com/watch?v=tQe2tmNnic4
To strengthen different personality traits and skills of the Air Hostess Course students, we conduct various practical sessions. During one of these sessions, we provide a free In-flight trip to our students.
Our students at T3, IGI Airport, Delhi, for their in-flight training module (on 22nd August 2018). This module is a part of the one-year diploma program of the Air hostess training course. Flying Queen Air Hostess Academy provides this trip free to all its one-year diploma program students. for complete details of the trip, click the link below -
https://flyingqueen.in/air-hostess-academy-in-flight-training-aviation-institute-pitampura/
                      ___________________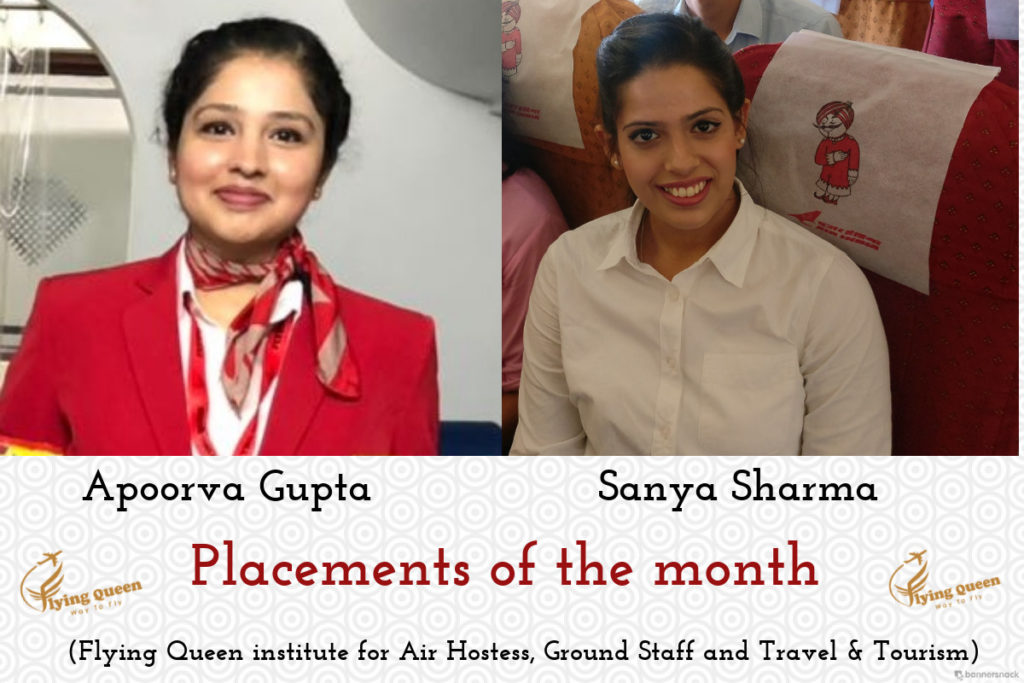 After pursuing the Air Hostess/Cabin Crew Course, the next step is the job placement. In our one-year Diploma course of Air Hostess Training, we prepare and equip our students to be prepared and get a job in the Aviation (Air Hostess/Steward), Hospitality and Travel & Tourism sectors.
Recently after completing their Diploma in Air Hostess Training from 'Flying Queen Air Hostess Institute', Pitampura, Delhi', two students have got placement in the hospitality sector, in Five-star hotels of Delhi.
Apoorva Gupta got her first placement at 'Oberoi Hotel, Civil Lines, Delhi' and the other student Sanya Sharma got their first promotional job at 'Crown Plaza Hotel, Rohini, Delhi'.
The management and staff of the Institute wish both the students 'good luck' for their bright future ahead and believe firmly that both of them will soon commence their career as Air Hostess as well.
_______________________________________________
Why Join Flying Queen? 
_____________________________________________________________________________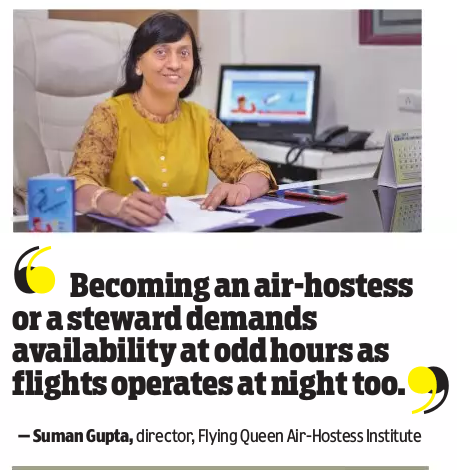 The job of an Air Hostess is challenging and demanding. It requires some specific skills and personality traits to be an Air Hostess/Cabin Crew. She/he has to deal with and satisfy passengers from various backgrounds like common people, celebrities, VIPs, Business magnets and politicians etc. So, an aspirant has to be smart, well-dressed, soft-spoken, empathetic, brainy and cool minded.
Some of these skills are already possessed by an applicant undergoing Air Hostess Training, but some of them are taught and imbibed during the one-year Diploma Program of Air Hostess Training Course. To pursue this course, the aspirant has to be –
(a) XII pass from a recognized board
(b) Possess good personality with no visible tattoos
(c) Dedicated, passionate and hard worker
(d) Ready to work for odd hours as the flights operate at night too.
So, if you have the passion to turn the stones, then this is a good career for you. To read the complete article click the link below :
http://epaper.mailtoday.in/1640137/Mail-Today/Mail-Today-Issue,-May-1,-2018#page/22
_____________________